Due to the increase of automation level of the process of currency exchange and the desire to improve the quality of customer service, as well as to take a favorable position in this market sector is gaining great potential to install and use currency exchange machines. This solution greatly accelerates the process of exchange, provides a large variety of types of currencies, combines a variety of services, including reception of various payments.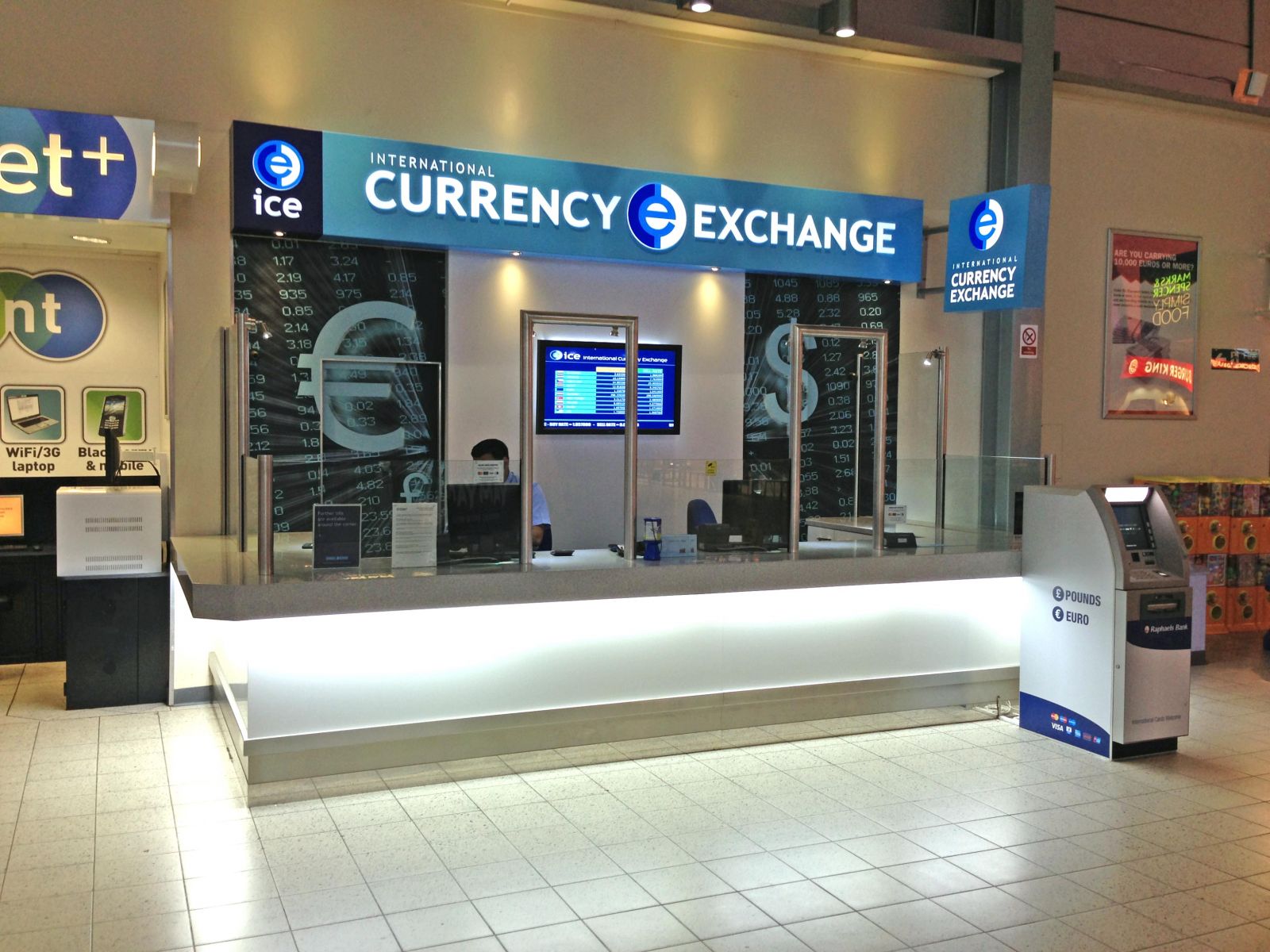 Soft-logic company's specialists represent a business solution that includes currency exchange machine based on Pay-logic software, which allows to organize automated currency exchange business. Turnkey solution allows to receive 4 types of currencies and dispense 6 types of currencies, take banknotes in stack and bunch mode. Solution can include coin acceptor and coin hopper.
Device runs on Windows or Linux platform, includes easy configuration of hardware and software, remote management and monitoring (state of the components, fullness of the boxes, notifications), remains control (provided by GPRS, Wi-Fi, Ethernet), prerequisites are high security level of software and burglar resistance. At the end of the operation is issued a customizable printed document – receipt.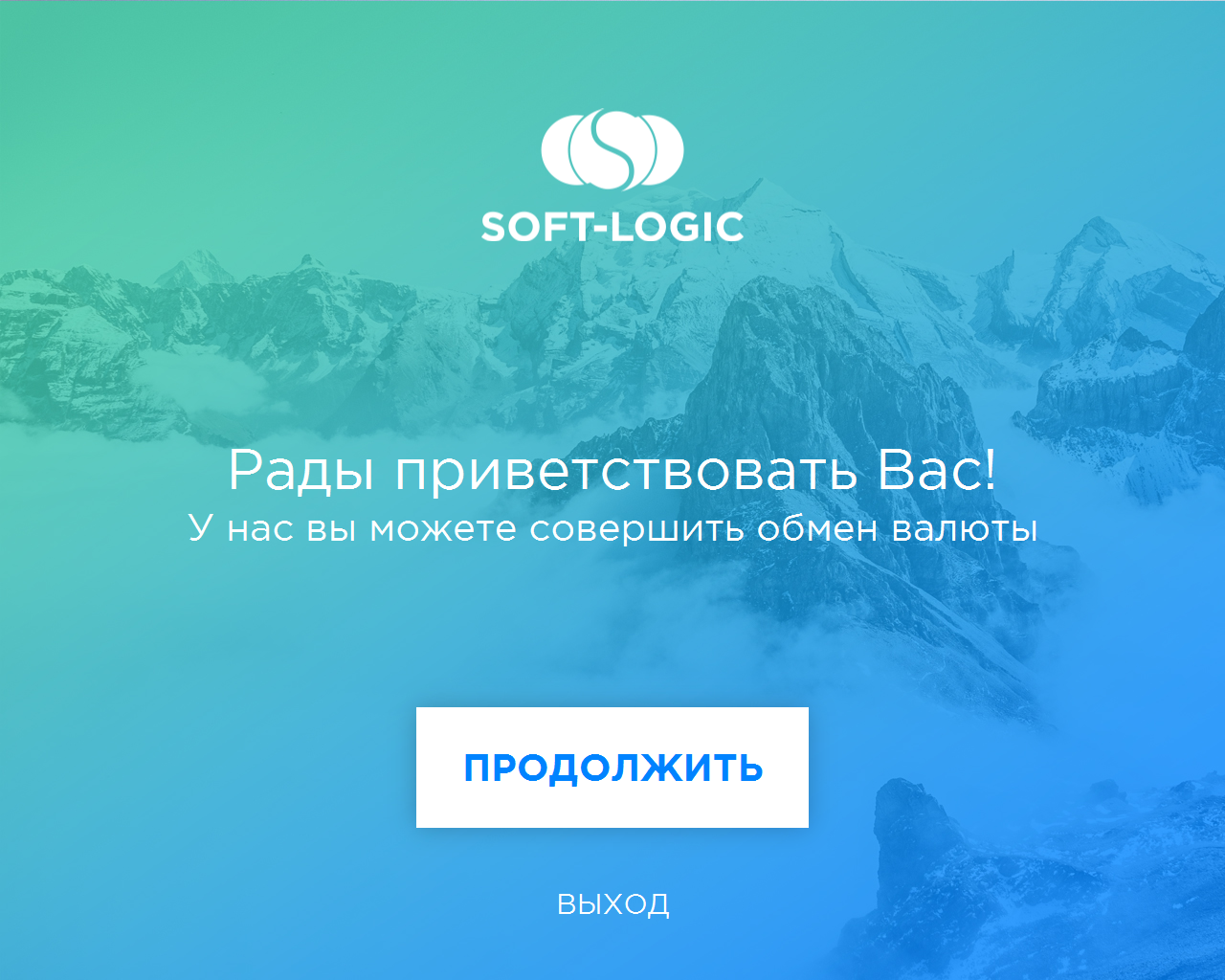 2/3
Choise of currency pair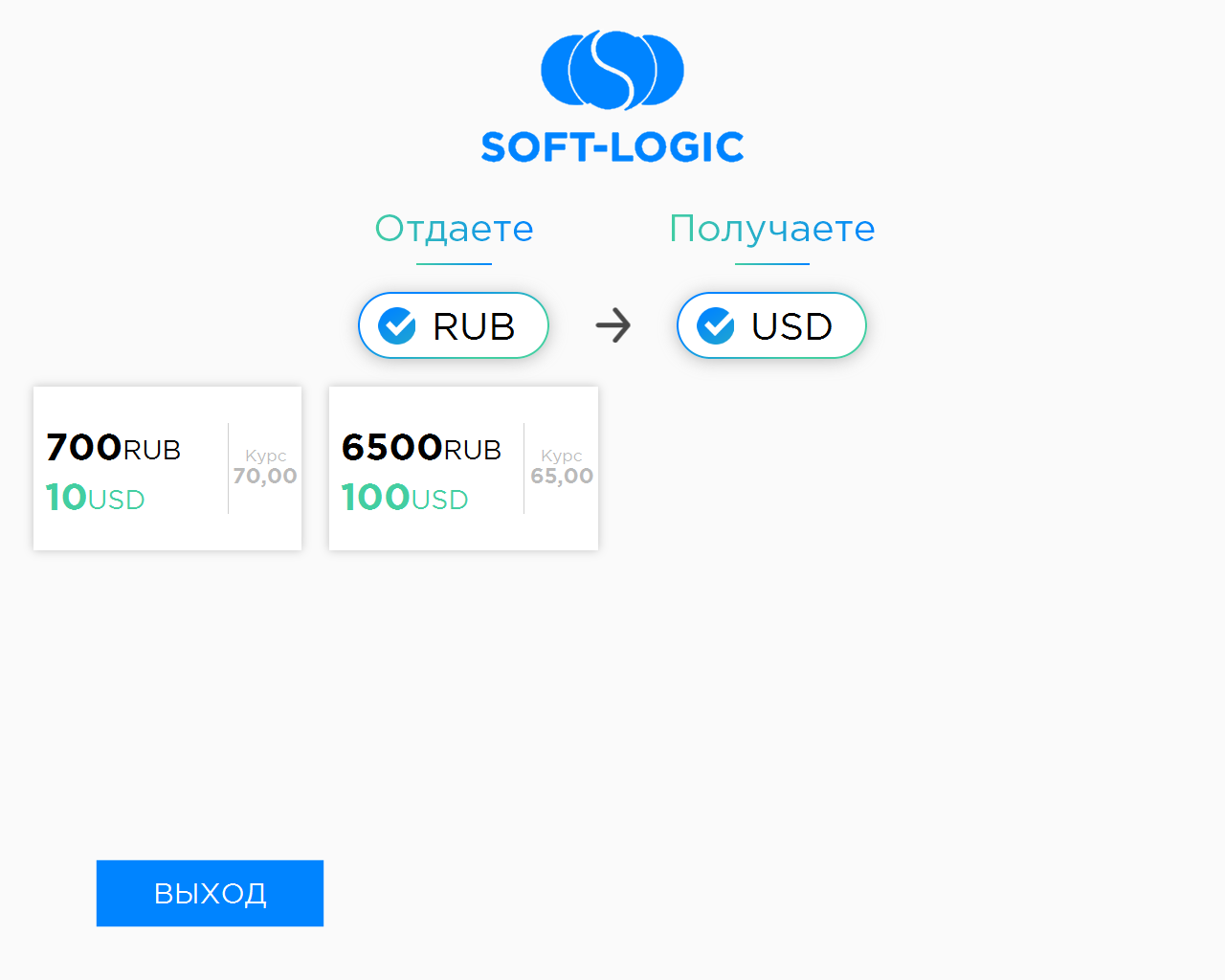 3/3
Example of strict exchange rules
A special feature of the solution is the ability to receive any payments, customization of any requirements based on the customer's request, including the integration of hardware, whitelabel concept and modification of scripts. Separately supplied advertising module, allowing to carry out a flexible advertising settings on the second monitor or in the interface. The solution is multilingual, based on national particularities of integration area.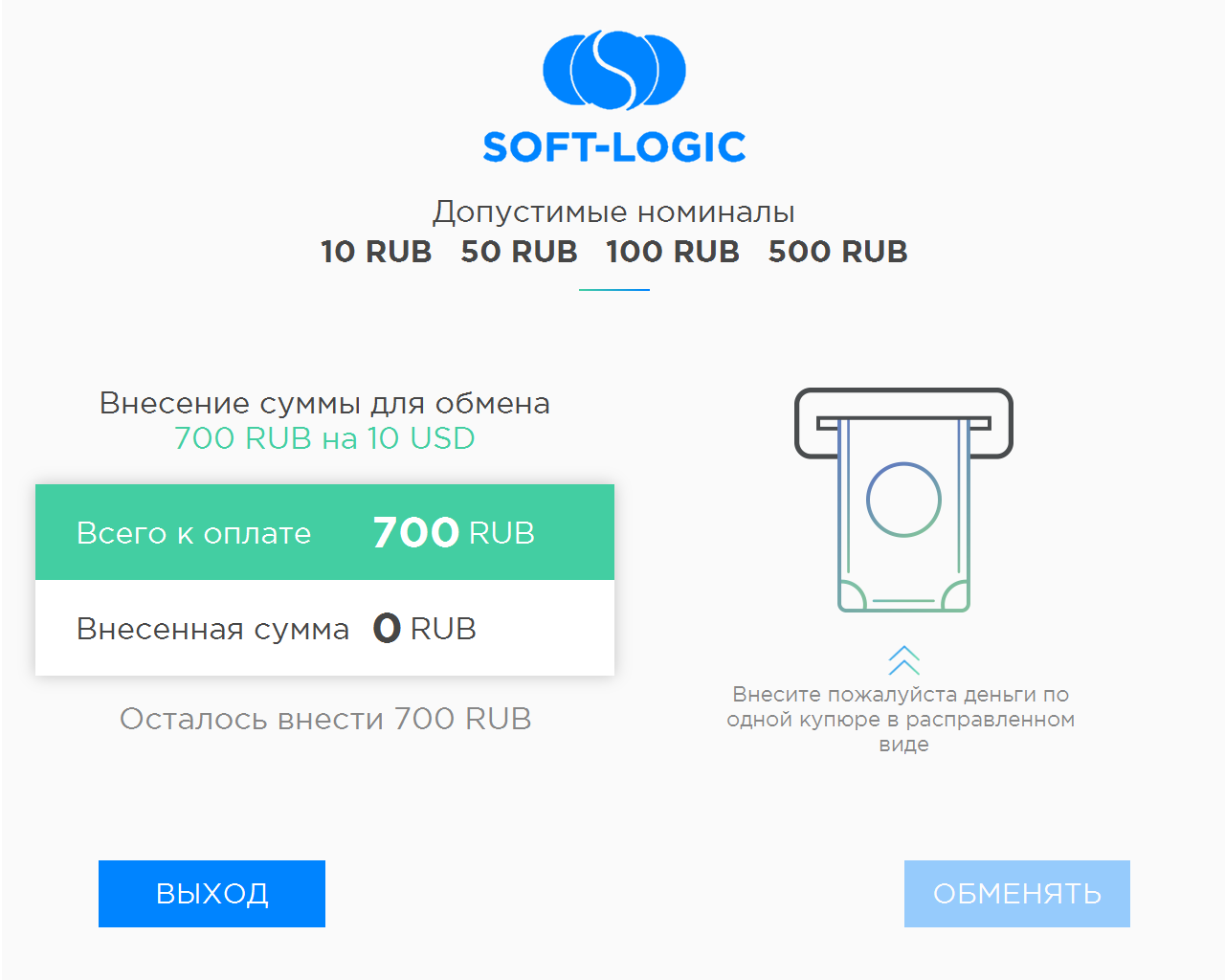 1/3
Deposit screen for exchange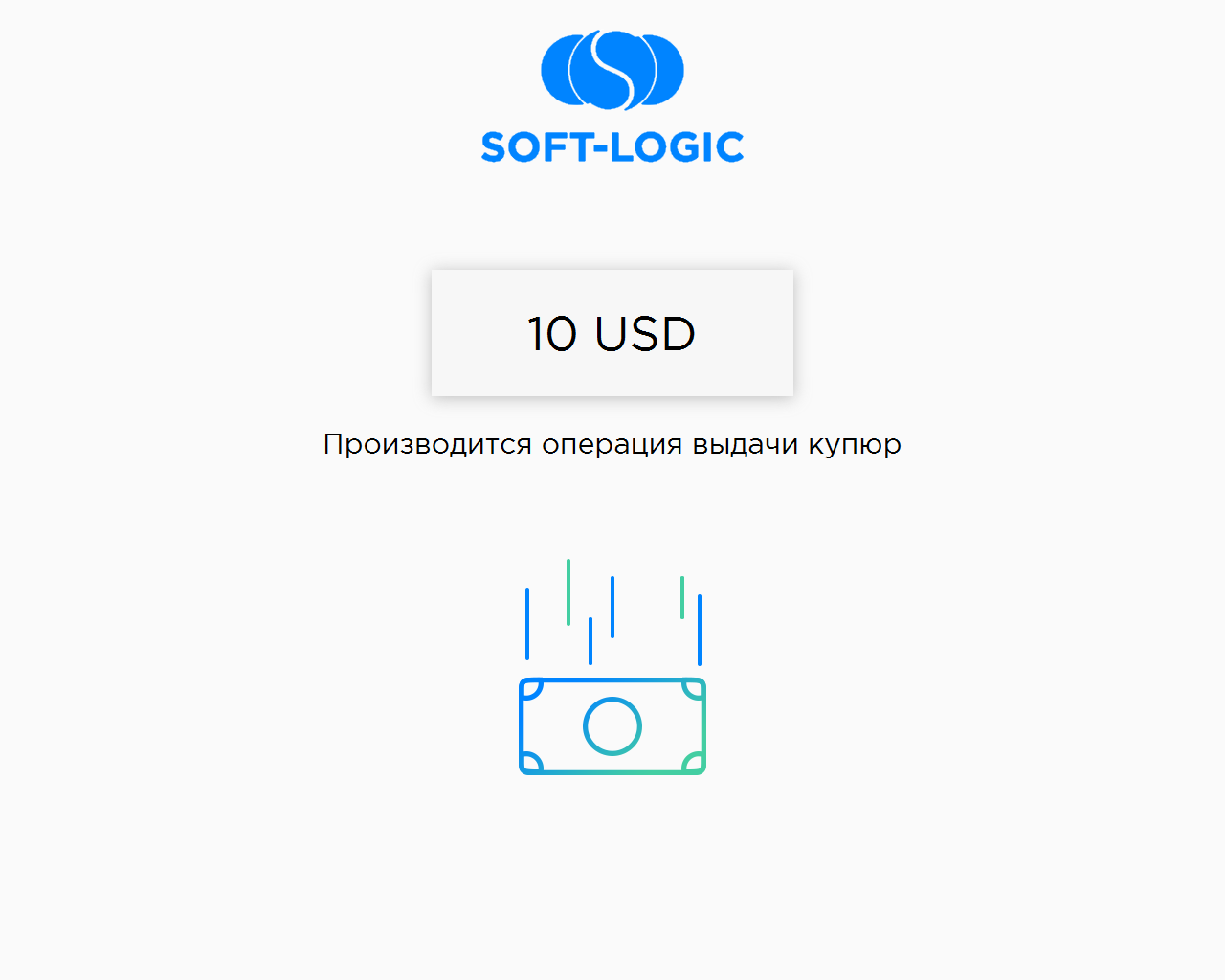 2/3
Notification about dispense
Rules of exchange may be presented as strict compliance, such as for 100 USD - 6,500 rubles, or effected in the current exchange rate with the indication of commission by operation. The system allows for setting the exchange rules with the possibility of automatic adjustment to exchange rate and offer the best options for exchange operation. Additional configuration allows to set denomination of received banknotes and exchange regulations, this will avoid working with banknotes of small denomination.
Currency exchange machines can be particularly popular in areas that are actively associated with the tourist business. The correct choice of network device location in tourist countries, coupled with a lot of types of currency for exchange will be a stable source of income. Currency exchange machines, which combine mixed exchange and payment functions can be actively used in bank branches.
Soft-logic company provides a turnkey solution for the automation of exchange transactions, combining in itself all necessary functionality for currency exchange, payment acceptance, flexible configuration of software and the ability to refine, based on customer needs. We invite manufacturers of terminal equipment and terminal network owners to cooperation. This solution represents an excellent opportunity to enter the new market level without risk and large costs, the opening of additional business prospects with preserving receive payments functional.