What financial benefits are possible when replacing staff with kiosk? What are the real benefits from implementation of self-service kiosks? How effective is kiosk instead of administrator or cashier? We would like to tell more about financial side of the solution and real economic benefits. Calculations are relevant for estimating the cost of automating any business - fitness clubs, beauty salons, hairdressers, barbershop, restaurants and fast food, amusement parks, water parks, sports and leisure centers, clinics, medical centers, etc.
Let's take as case situation when at the establishment open two or three receptionist vacancies and it is highly desirable to reduce costs and unify work duties of the administrator, cashier and employee at the reception in one person.
Staff costs
From the information on job sites and approximate estimate of real wages in cities such as Novosibirsk and Yekaterinburg, receptionist receives an average salary 30 000 ₽ per month.
Salary 360 000 ₽ per year.

47% tax on employee - 169,200 ₽ per year.

Total 529 200 ₽ per one receptionist every year
We do not forget that this is a person, which means that according to the law it is necessary to provide sick leave. There are personal circumstances and some external factors affecting efficiency. We remember about the economic expenses. There are various methods for estimating costs described above. We take them equal to 20% of salary level. Total costs will be 72 000 ₽.
Total costs for 1 employee ~ 600 000 ₽ per year
If we automate workplace of the cashier in larger city, average salary in it about 50 000 ₽ per month.

The cost of such employee will be ~ 1 000 000 ₽ per year

Kiosk costs
We take the most expensive cash and cashless kiosk. Price is approximate and may vary depending on dollar exchange rate and on configuration.
Cashless kiosk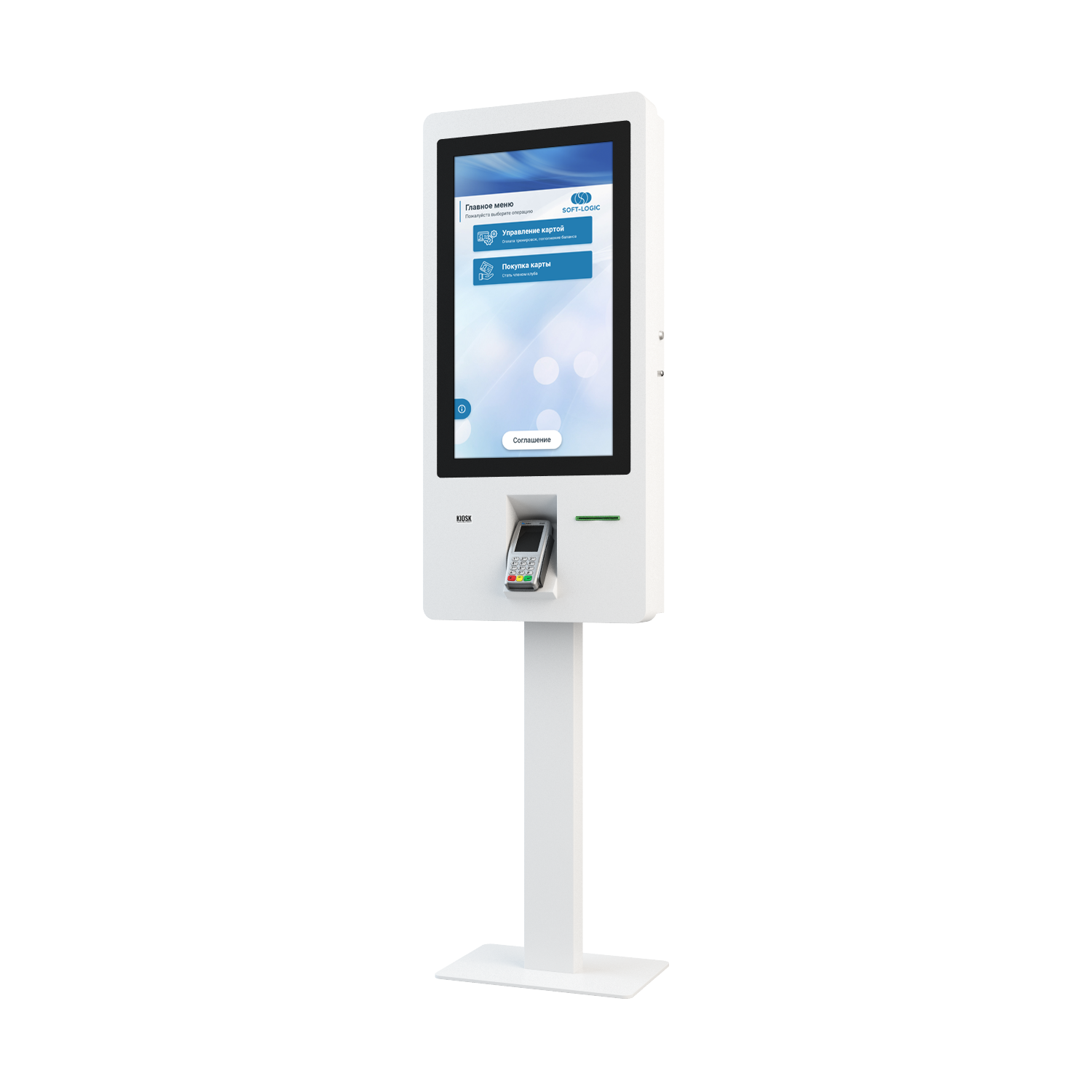 175 000 ₽, 32-inch diagonal, only POS terminal (can be issued by number of banks for free, only payment for acquiring services), bright screen for high-quality multimedia content. It supports all features of web technologies, display of any content on the kiosk.
Kiosk with cash acceptance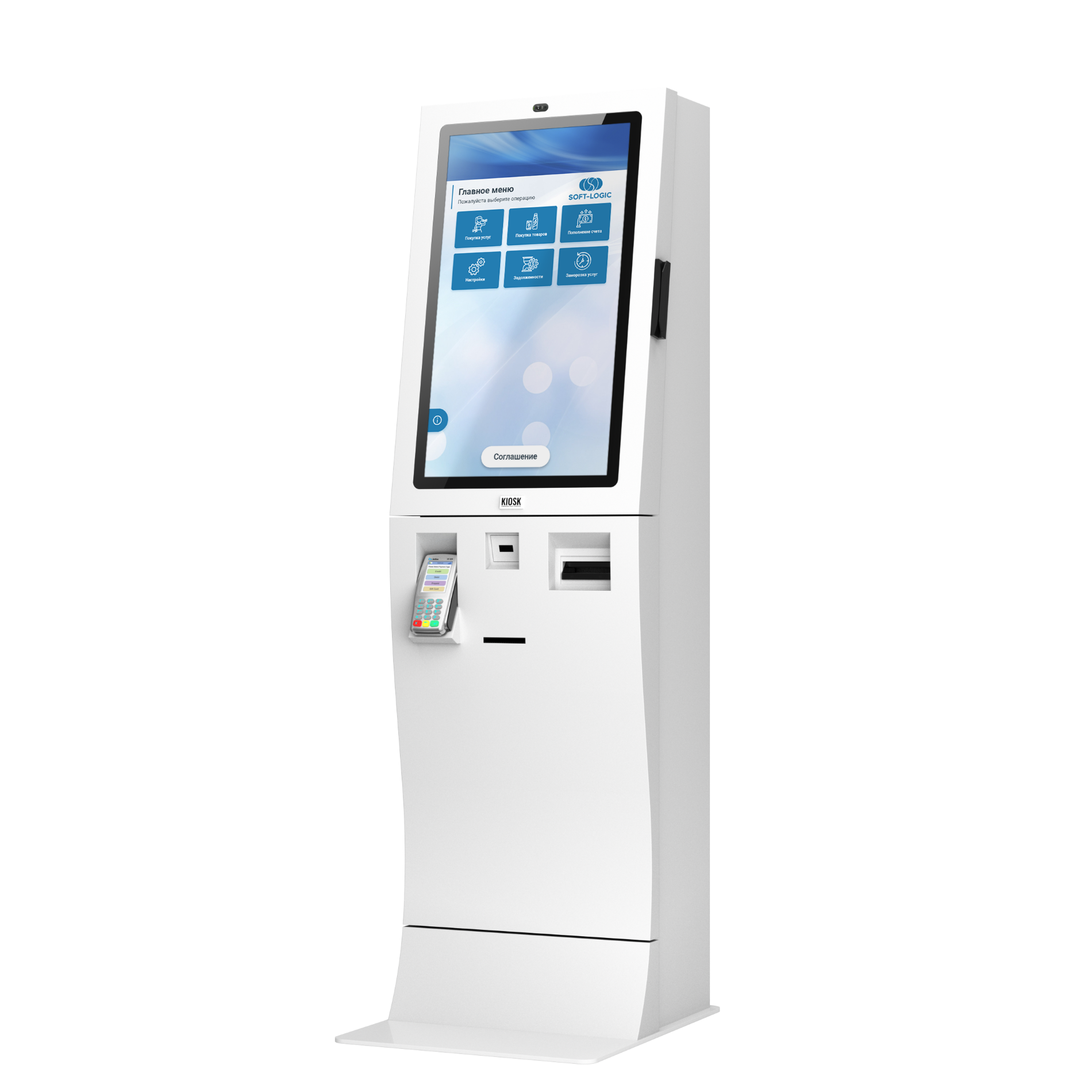 300 000 ₽, 32-inch diagonal, POS-terminal, recycling module, barcode scanner. Price also includes online cash register with approximate price 20000 to comply with 54-Federal law.
Other potential costs for kiosk
Any technical device requires periodic maintenance. If business network has engineering specialist or uses outsourcing services, self-service kiosk will be serviced as part of the concluded contract and no additional costs will be required.
If install kiosk that supports cash handling, cash collection services will be required, however, in any case it is also need for cash desk, therefore there also will be no additional costs.
Start-up and cloud software costs
Approximate cost of commissioning is 100 000 ₽, it consist of the work on integration with system. Cost of cloud software is 4 999 ₽ per month or 49 990 ₽ per year (save up to 10 000 ₽ when choose annual subscription).
Accordingly, total cost of software for start of one point is equal to 150 000 ₽, if annual subscription. If network for example consists of five fitness clubs, it will require 100 000 ₽ for one-time integration and 49 900 ₽ for each kiosk per year, that is 349 950 ₽ for the first year and further 249 950 ₽ for five kiosks every year.
Payback period in comparison with employee
With cost of 600 000 ₽ per one receptionist every year and taking into account all the costs of kiosk per year - equipment, commissioning, cloud software, maintenance and support, receipt paper:

Cashless kiosk for 320 000 ₽ - 6.8 months
Kiosk with cash handling for 480 000 ₽ - 10 months
Do not forget that for large city where employee costs 1 000 000 ₽, payback period is even less - 4 and 6 months.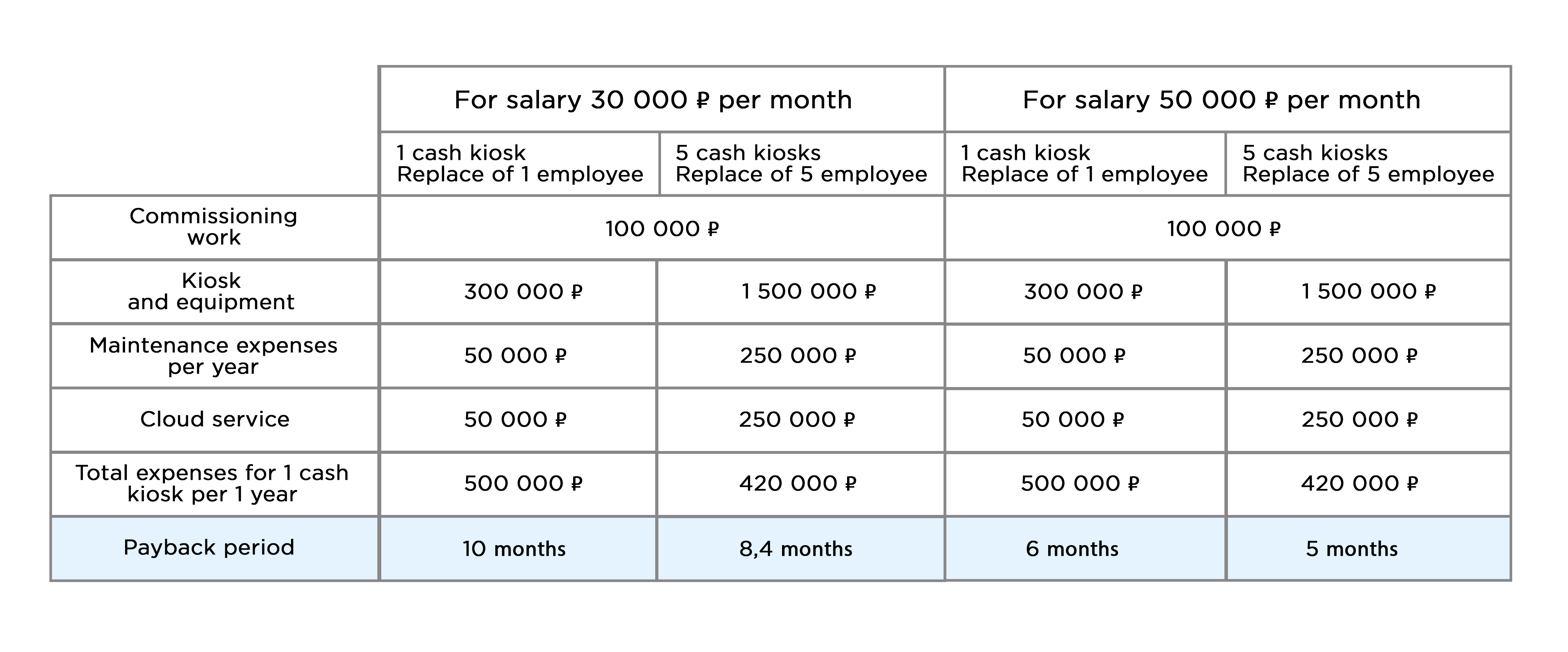 From the second year need pay only for cloud software - 49 990 ₽ per year. As result, after reaching break even point kiosk begins significantly save money.
Takes into account the annual 5% indexation of employee salaries. Total cost of kiosk is growing due to costs of cloud software and operating costs.
We would like to remind that were specially selected the most expensive models of kiosks. Also we do not take into account costs of dismissing, recruiting and training new employees.
Will my club/salon/clinic pay for expensive device and will use it as TV?
As we can see from data above, price of kiosk is quite affordable. There is a lot of devices in equipment market and even the most expensive and fully-functional model will not be more expensive than annual cost of one receptionist. In larger and more expensive cities, where salary is higher, which means that kiosk's payback period will be even less.
If fitness club is equipped with electronic lock at storage lockers, kiosk can be modified to dispense RFID cards that will be used for access to the territory and to personal storage lockers. In this case employees are removed from the key dispensing and collection process.
Note that installing kiosk does not mean instant transfer of all business processes without use of employees. Will be required some time for reorientation or at least drawing attention to the device, at this stage kiosk needs to interact with staff.
At the same time need some restrictive measures for interaction with employees. For example, receiving all payments only through kiosk, no staff participation, activation of discount coupons only in self-service mode, etc.
Network of fitness clubs can present installation of kiosks as some kind of latest innovation for client. Built-in loyalty programs can be used to reduce cost of paying for goods, services and subscriptions through kiosk, access one-time free visits and provide some incentive bonuses.
Calculations seem attractive? Noticed potential for your business? We are ready to tell more about cloud service. And for large networks and franchises we supply complex under license, perform individual modifications or software development from scratch.