Modern self-service devices in addition to selling goods, services and accepting payments are also a universal digital platform for displaying any dynamic content and interactive features.
Smartix kiosks support all possibilities of modern web technologies, allows displaying any content on the device, including websites, showcases of goods or services, and interactive elements. The solution meets all the requirements for reliability and fault tolerance, provides management of device networks of any scale.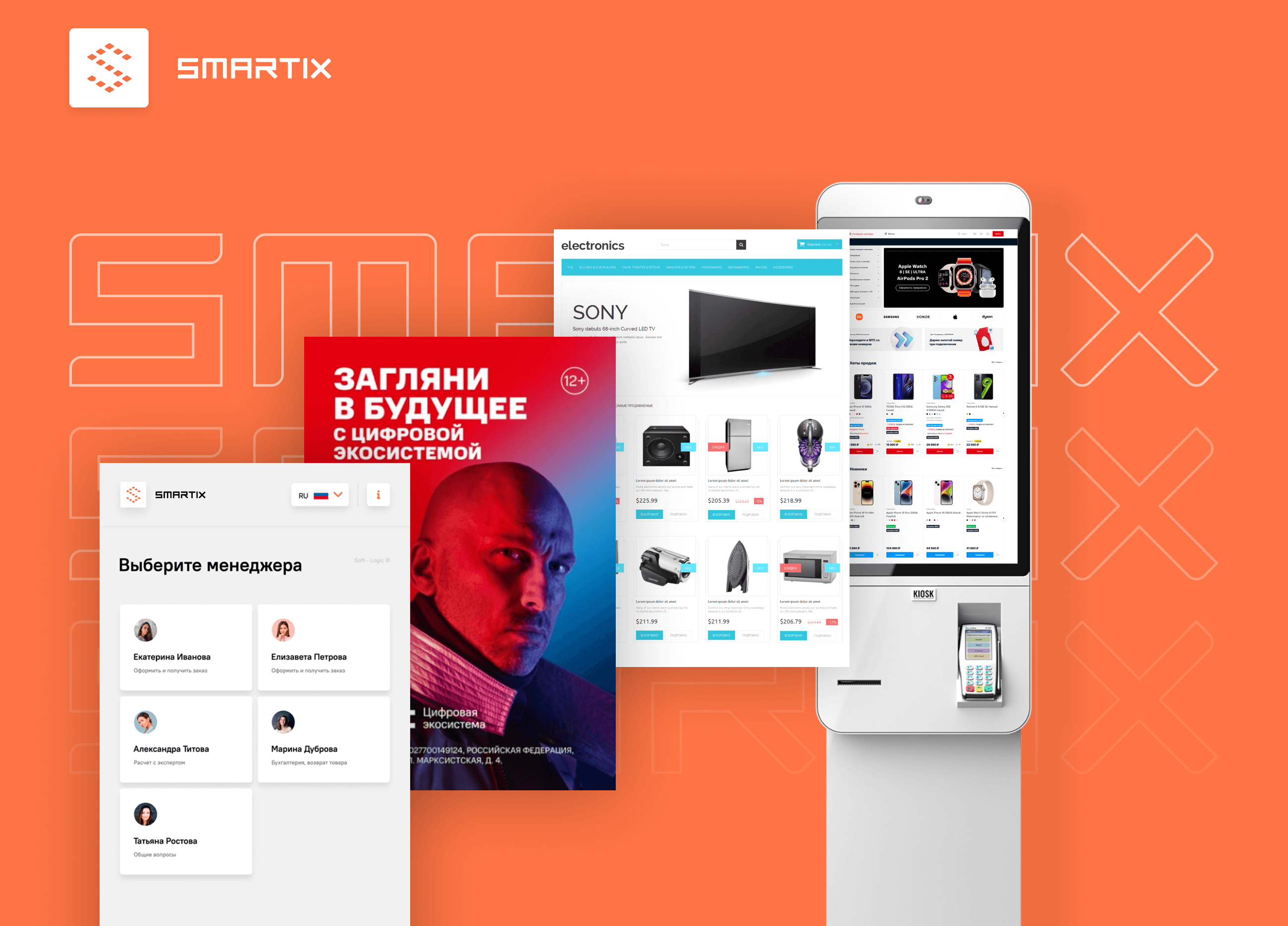 Smartix is complete online system with a central server, single point of control and receipt of all data:
Process management through a single back office, ease of administration and content changes on kiosks
Ability to fine-tune single devices or network segments
Remote software update
Flexibility in scaling and development of the kiosk network
Solution advantages
Virtual keyboard

Smartix kiosks support the use of virtual keyboards built into the core — when clicking in the input field, an alphanumeric keyboard is dynamically opened, and the client uses it to enter data. Language switching is supported, and the keyboard is made in the same style of the kiosk interface.
Cart payment

Smartix kiosks combine all the capabilities of digital systems and electronic storefronts, allowing to add to the cart and pay for the product right in the interface. Cart editing, selection of additional options, displaying up-sell and cross-sell offers in the interface are supported.
Fiscalization capabilities

For fiscalization of payments at Smartix kiosks cloud fiscalization is offered through any service. Complete statistics on payments is available on the server: a list of fiscalization operations with statuses, fiscalization parameters.
Security

Special mechanisms limit the ability to minimize the interface on the kiosk. Access to the desktop is blocked, kiosk software works exclusively according to specified scenarios. Web content filtering is provided. A list of valid linkings is supported (only within a domain and subdomains, or within a given white list of domains). Support automatic return to the specified start web page when idle.
Advertising opportunities

The presence of a specialized advertising module allows to set up advertising campaigns using animated and static banners, videos based on web technologies with many parameters, taking into account views. Management is carried out through the back office, simple content downloading, playlist setup, displaying of content linking to various network segments are supported. The order, time and frequency of playback are flexibly configured.
Features expansion
Smartix software supports any improvements in accordance with the expansion of requirements for the functionality of kiosks:
Implementation of customer onboarding processes — initial registration, selection of tariff or service package, printing of registration documents, dispensing of customer card or SIM card
Face analytics to determine the gender and age of a nearby visitor, demonstration of targeted advertising to attract interaction with the kiosk digital showcase
Launching voice assistants in the interface that assist user on certain screens
Connecting external equipment such as webcam, scanner, printer
Support for additional modules
Kiosks can act as a one-stop platform for deploying any additional software solutions. One example is the launch of Smartix electronic queue ticket kiosks software.
Multifunctional device will allow to solve a whole range of tasks, including automating customer placement through an electronic queue, deploying an electronic storefront for e-commerce, accepting payments for goods/services and much more.
Result
Self-service kiosks from Smartix solve all the tasks for displaying any digital content in the interface. Specialists pay attention to the reliability and fault tolerance of the solution. Out of the box devices support all necessary functionality, while they can be adapted to non-standard needs of customers in any business area. The flexibility of Smartix software allows to combine various scenarios of user interaction with kiosk, including sale of goods and services, electronic queue, information panel and much more.