Soft-logic company has begun the implementation of neural network technologies and machine learning methods in our own software for self-service kiosks. The main goal of the project is to provide effective face recognition systems in projects aimed at implementation of Digital Signage functionality.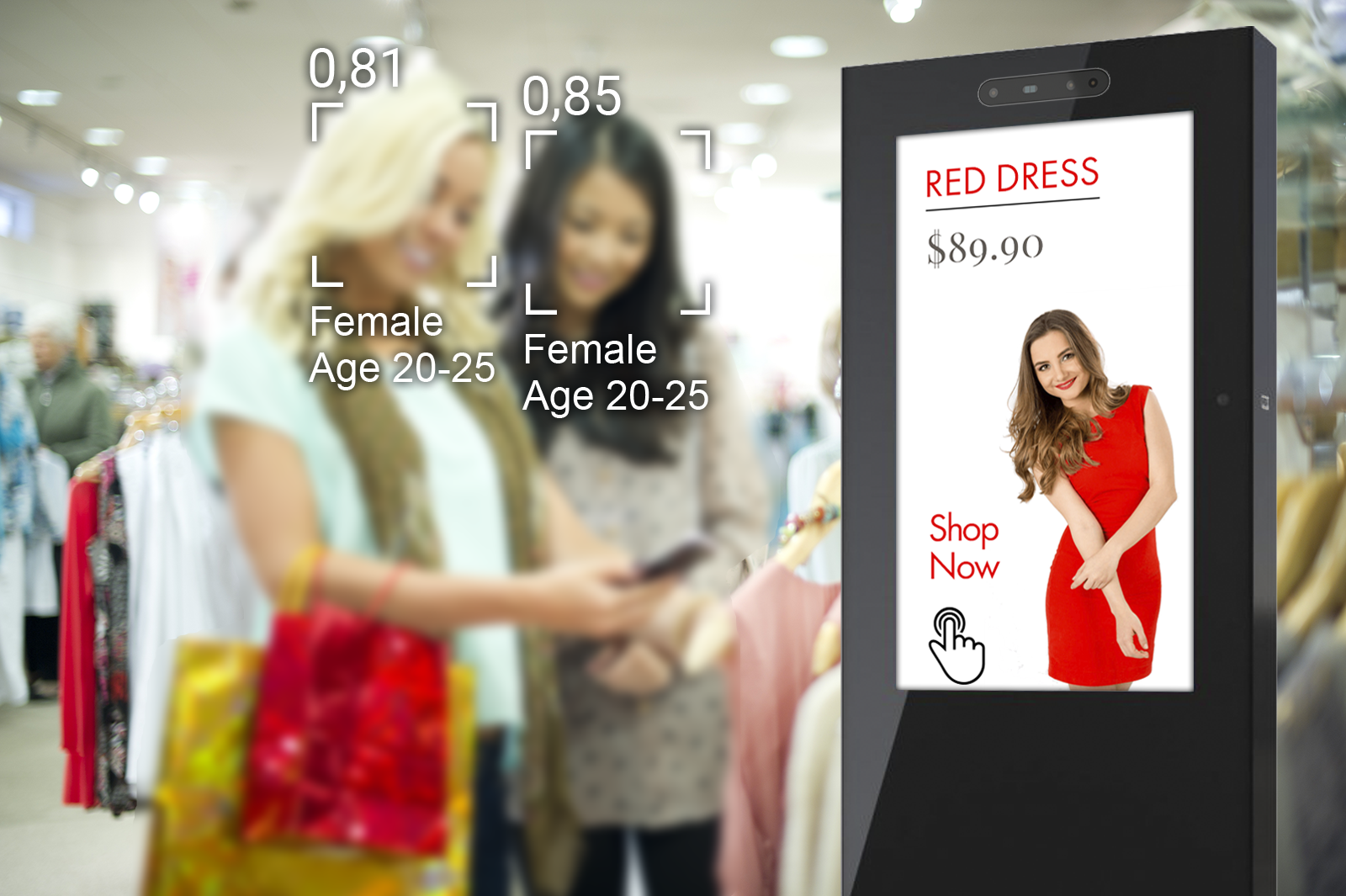 As a result of the planned implementation, widescreen kiosks with webcams on our software will support:
Gender and age determination
Accurate recognition of visitors near kiosk increases the effectiveness of advertising campaigns, demonstrates banners and video clips when idle – using a mechanism of targeted advertising.
Customer data collection and processing
Data about payers is stored on the server. In addition to gender and age, it is possible to record and process photos for more complex face recognition algorithms and accurate recommendations to a specific person when they will visit a store in the future, with information synchronization about purchases of goods or services in the past.
Kiosk interface action tracking
Our software allows to take into account data on the number and frequency of contacts with the kiosk, screen touches in addition to the composition and characteristics of the target audience. Collected information on the behavior of potential customers may be required for further predictive analytics.
The implementation of face recognition technology to expand Digital Signage capabilities in self-service kiosks is aimed at meeting the demand of retail, online stores, fitness clubs, restaurants and fast food establishments, medical centers, etc., to integrate interactive advertising panels, showcases and payment kiosks into a single device. Our software allows to solve key tasks for the customer:
Attract and retain the attention of a potential client through a targeted, personalized offer

Demonstrate an interactive product showcase and engage in the selection process

Allow to quickly and conveniently choose the product/service, with up-sell and cross-sell support

Accept payment, thereby bring the process to the final goal - successful purchase

Increase conversion, collect statistics for further implementation strategies
If we look closer at the use of recognition algorithms in various business areas, for example, in fitness clubs, when a person appears in front of a kiosk, it is possible to demonstrate personalized schedules with reference to gender and age. In medical clinics - show relevant procedures, costs and conditions for the basic medical examinations. In the entertainment and leisure centers - group discounts if customers is a family with two or more children.
Face recognition technologies and machine learning methods allow the kiosk to operate even more efficiently as a tool to attract and engage a potential audience. A hardware-software solution will help effectively interact with the customer, control his behavior and not only involve him in the selection process, but also successfully complete the purchase process or obtain the necessary information. In addition, the capabilities of the kiosk are unlimited for expand, for example, the device additionally provides the functionality of the product constructor/customizer, price checker, feedback form.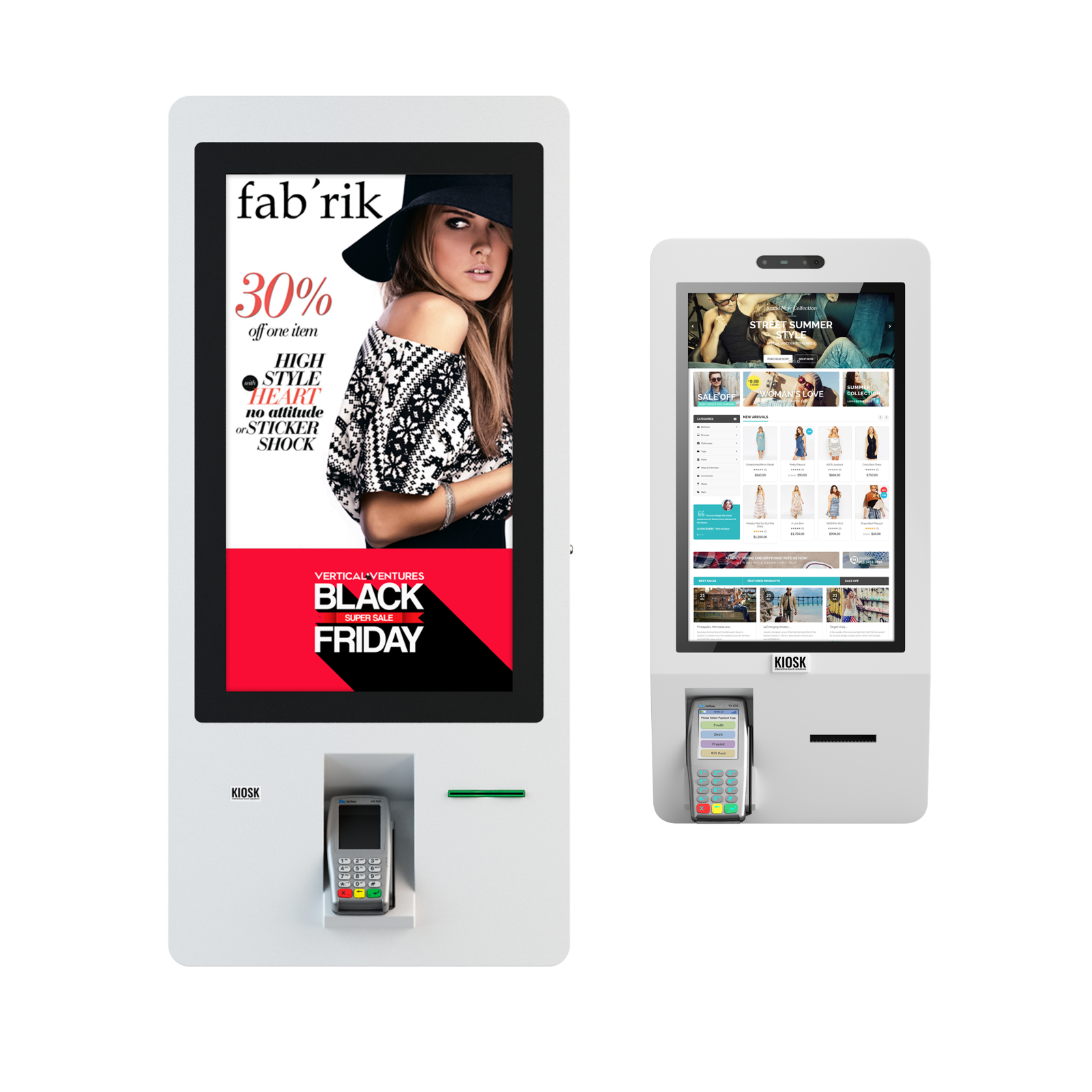 Soft-logic company offers its own technologies for the implementation of specialized software for video walls, advertising panels, wayfinding kiosks. Based on years of experience in the implementation of software for self-service kiosks, experience in working with content, we can develop a comprehensive solution to play video ads and audio content on various devices using specified algorithms, conditions, using face recognition and voice control, with control and monitoring complex through a single back office. The further development vector of the solution will depend only on the customer's needs and business strategy.
We are ready to implement any ambitious projects using various levels technologies of any complexity, with support of solutions in the field of machine learning and neural networks. These technologies will effectively solve the problem of involving or simplifying user interaction with self-service devices and interactive panels.