In the first quarter of 2020 our company successfully completed several significant projects for the implementation of software for parcel lockers. The result is the creation of complete software solution for the top-10 Russian e-commerce companies.
For the further development of this software complex we are looking for reliable parcel locker manufacturers to establish strong partnerships and create comprehensive hardware-software solution. The result will be an adaptive product (both software and hardware part) with multiple features and increased competitiveness in the current service delivery automation market.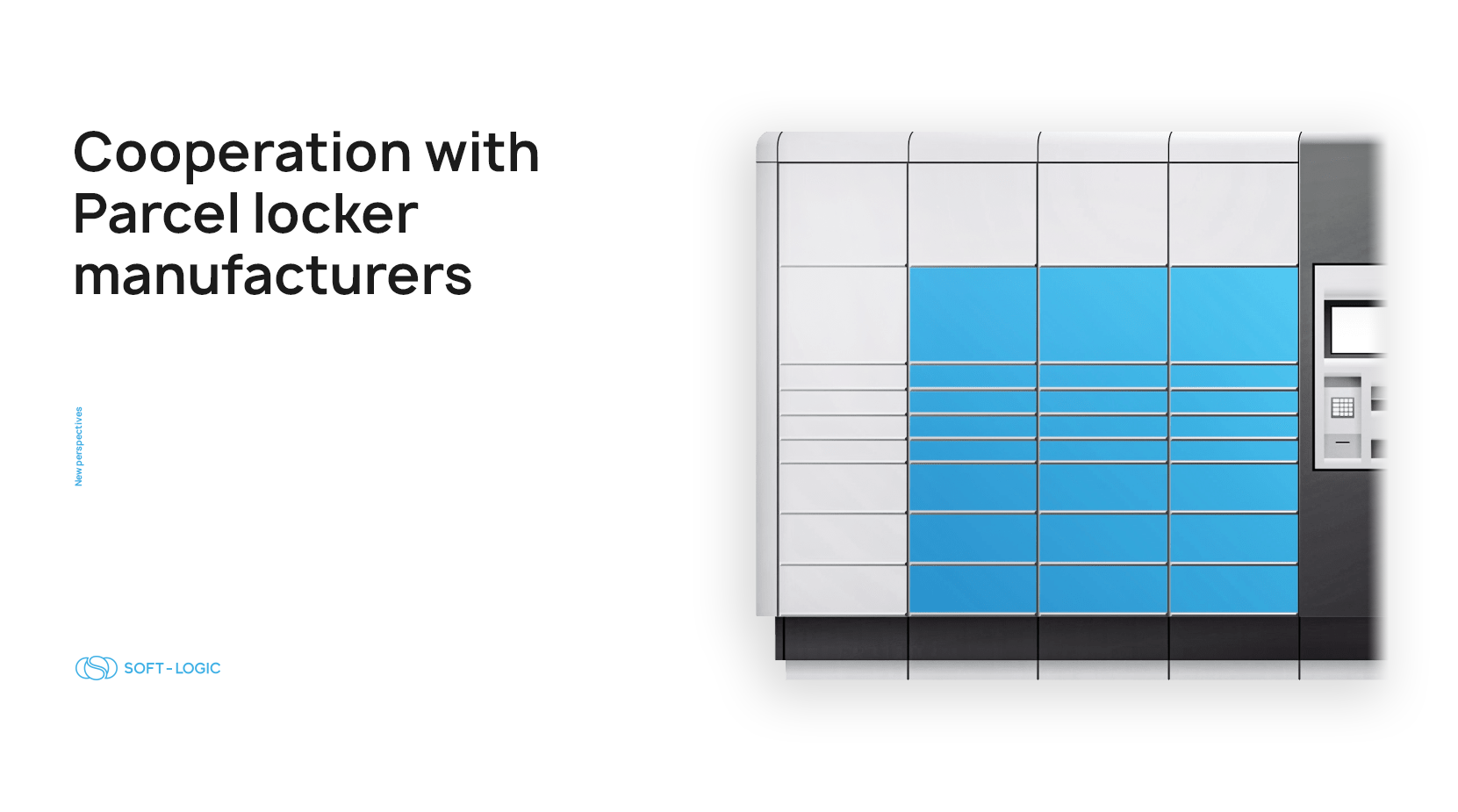 Experience and features
Our company has 10+ years of experience in develop software for self-service devices. Our solutions are used to organize seamless interaction of customer's device networks, the largest of which include over 10 000 devices. Since 2017 we have been developing and implementing our own software for parcel and storage lockers.
Soft-logic specialists are one of the most experienced team in Russia in the field of integrating various equipment types — cash handling devices, controllers, electromechanical locks, etc., creating solutions based on Raspberry Pi microcomputers. If necessary, we actively integrate new equipment at the customer request.
For administration, management and processing of self-service system statistic, we develop back and front offices based on web applications, we additionally implement mobile applications for solving related tasks in the field of delivery/storage automation and e-commerce.
Parcel lockers, storage lockers, industrial vending
Our software is used at parcel and storage lockers with various requirements for the storage conditions (heating, cooling, ventilation). Design and equipment for creating temperature conditions allows the implementation, for example, pharmacy lockers with strict observance of the storage conditions for medicines or food lockers with hot dishes on demand.
Key features:
System size — placement of up to 100 000 parcels/goods per hour

High performance and fault tolerance

Support for various payment systems

Input automation — barcodes, webcams

Management through the back office, monitoring and control of equipment status

Implementation of mobile and web services, monitoring and control of parcels

Combine parcel locker/food locker/storage locker with payment kiosk for payment of third-party services
We also implement software for industrial vending, functionality includes:
Control of remains and accounting of the ingredients consumption (goods, components, cups, etc.)

Transparent sales statistics to improve business model (assessment of the devices placement effectiveness, replenishment of ingredients)

Equipment monitoring (vending hardware devices, payment peripherals)

Creation of complex operation scenarios

Combining with cloud cash register rental services (lower fiscalization costs)

Integration with self-service payment kiosk
Why choose us
Our company has established itself as a reliable software provider in 70+ countries. We work with the different scale and level of customers, we know the specific needs of their end customers and we are well aware of the risks for software development from scratch.
Cooperation with Soft-logic means:
Wide experience and knowledge of such system's problematic

Understanding of system architecture, software development skills for organizing 1000+ pieces of equipment within one system

The lack of analogues in combining the software functionality for parcel and storage lockers, flexibility, adaptability, quick realignment of software to any business areas

Requests for both standard and custom equipment manufacturing projects with different hardware requirements

No need to invest at the initial stage in the IT team — these can be serious costs

No risks of getting uncompetitive, outdated, low-quality software from own full-time developers

Quick entry to a promising market in the face of rapid development of competitors and tight deadlines. New opportunities for equipment manufacturer
Apart from to cooperation for creation a comprehensive hardware-software solution, we rely on additional cooperation in customers search and pre-sales. For our part, our company is ready to process requests from potential customers, create complete product and expand the service delivery automation market. Have an interesting suggestion? Let's cooperate!